Are Your Family's Vaccinations Up-To-Date?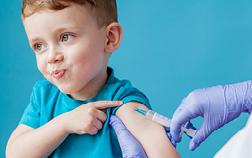 As children grow up, their parents try to do everything in their power to keep them safe, happy, and healthy. According to the World Health Organization, one of the most cost-effective health investments is to have your kids vaccinated and ensure their vaccines are up to date. And by being vaccinated yourself, you can do your part to keep your children, all children, and other at-risk people in your community, safe from vaccine-preventable illnesses too.
Did you know that by ensuring routine childhood vaccinations you could protect your child from many diseases before the age of two? Because so many of these diseases and illnesses aren't seen first-hand in our communities thanks to vaccination, it can be hard for parents to understand the risks their children face if they choose to go unvaccinated. Even one case of measles can spread quickly when people are not vaccinated, so don't wait until it's too late. Regardless of the prevalence of recent outbreaks in your area, ensure your family's health by keeping your vaccines up-to-date.
The Ministry of Health in Israel recommends routine immunization for infants, children and adults, as well as for designated populations: the elderly age (65+), pregnant women, travelers abroad, health workers, health professionals and other populations at risk.
Vaccination works best when they are administered on-time, beginning when your child is very young. Israel's vaccination schedule is designed to protect children before they have been exposed to vaccine-preventable diseases. Because young children are more at-risk for serious complications of certain diseases, they are vaccinated at a very young age to give them the most protection as early as possible.
To receive full protection, children must be vaccinated in multiple stages, and some vaccines need to be administered more than once to boost children's immune systems.
All routine immunizations provided at the Family Health Centers ("Tipat Halav") and in schools are free of charge. There are additional vaccinations for all ages recommended by the Ministry of Health but are not included in the health basket and are subject to payment.
REFERENCES: